Launch a Cloud-First Strategy
Cloud resources can help enterprises consolidate IT assets to cut capital and infrastructure management costs. As such, many IT leaders have a cloud-first strategy in their sights.
However, as enterprises struggle to manage the growth of unstructured data, they often think the only answer to more data is more storage. If you don't provision cloud infrastructure and enterprise cloud file storage strategically, costs get shifted rather than cut. Cloud services providers charge for data upon egress, and those little costs tend to add up. If you're backing up distributed data islands en masse, you won't realize the full economic benefits the cloud can offer.
The ideal solution is to eliminate as much local file storage as possible. Those unstructured data islands can put immense strain on local bandwidth and performance, especially with a limited budget to invest in bandwidth at the branch.
Watch Webinar »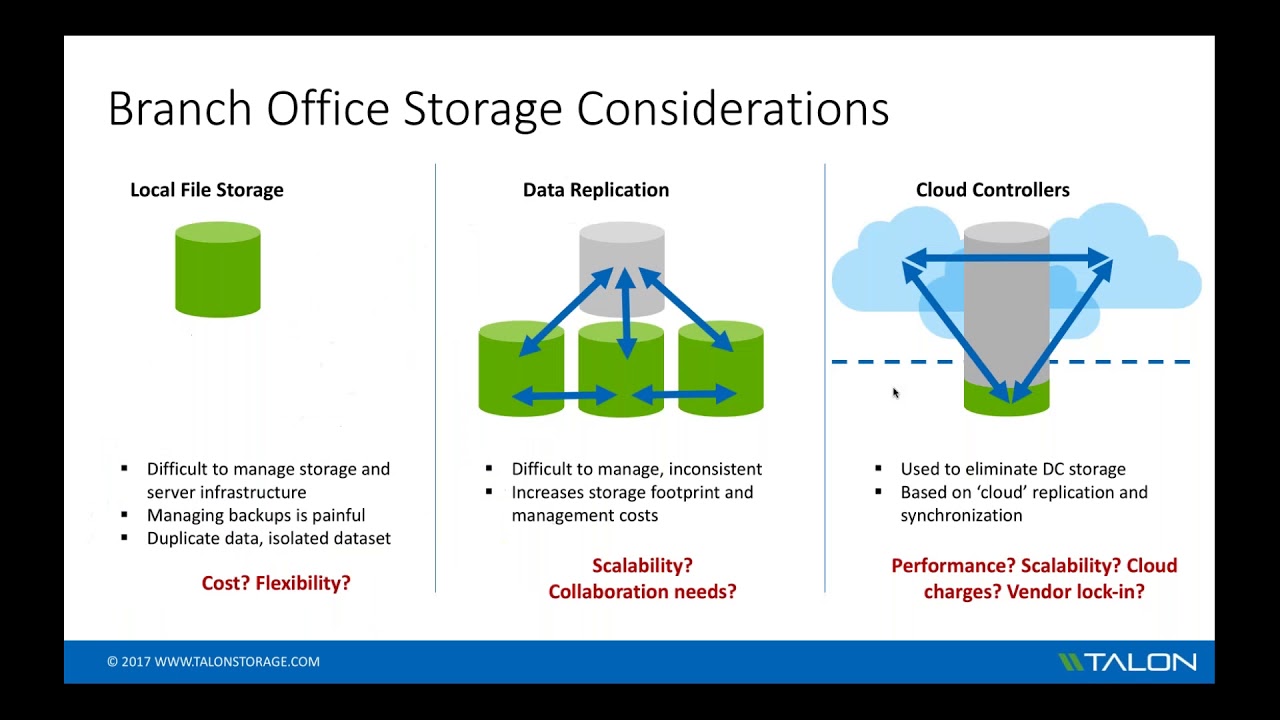 ---
FAST™ Supports Your Enterprise Cloud File Storage Strategy
FAST™ is the missing link that can make a cloud-first strategy possible. It's a software-defined storage solution that helps you achieve significant cost savings by centralizing unstructured data and consolidating IT services.
Deploy FAST™ in traditional data center, hybrid cloud, and public cloud environments. It's storage agnostic and integrates into any storage environment, including AWS and Azure. You can deploy it in the environment you have now and continue using it as your cloud strategy evolves.
Manage your data centrally and independently, using the enterprise cloud file storage solutions you prefer. FAST™ can utilize SMB/CIFS, iSCSI targets, or directly integrate with your cloud storage solution including Microsoft Azure, Amazon AWS, SoftNAS, and industry standard solutions like NetApp ONTap Cloud.
In addition to the core instance deployed in your data center, deploy edge instances at your branches; the FAST™ fabric extends your centralized file shares to distributed locations. FAST™ edge instances create a virtual file share and an Intelligent File Cache that caches only active data at the branch.
The core instance streams and compresses data in transit, overcoming latency and bandwidth issues. Only changes to the authoritative copies of your files are streamed back to the data center, minimizing your data egress costs.
Where to go next?
Create a "Single Set of Data" using existing traditional datacenter, hybrid-cloud, or full cloud datacenter infrastructure.
Consolidate distributed IT storage and infrastructure by using Talon FAST™ software fabric, enabling Intelligent File Caching technology for your unstructured data to provide a seamless experience for your end users.
Simplify your migration, governance, cloud, and security strategies, no matter what deployment model you use: traditional data center, hybrid cloud, or public cloud.
Learn more about FAST™ Software »
---