Streamline Distributed Storage and Infrastructure
Most enterprises maintain workloads in distributed IT environments. The operate on a network of file servers with costly replication and local backup file solutions. Their infrastructure is spread across their enterprise and requires constant vigilance to ensure it meets the needs of their local users. If the data needs of a particular location grow beyond what the enterprise can provide, costs begin to increase drastically.
This is no longer an option for modern enterprises.
You can leverage the power of the cloud and cut local storage costs by as much as 70 percent without giving up branch performance.
Learn how the FAST™ Fabric can help you tackle the challenges around distributed storage.
Watch Video »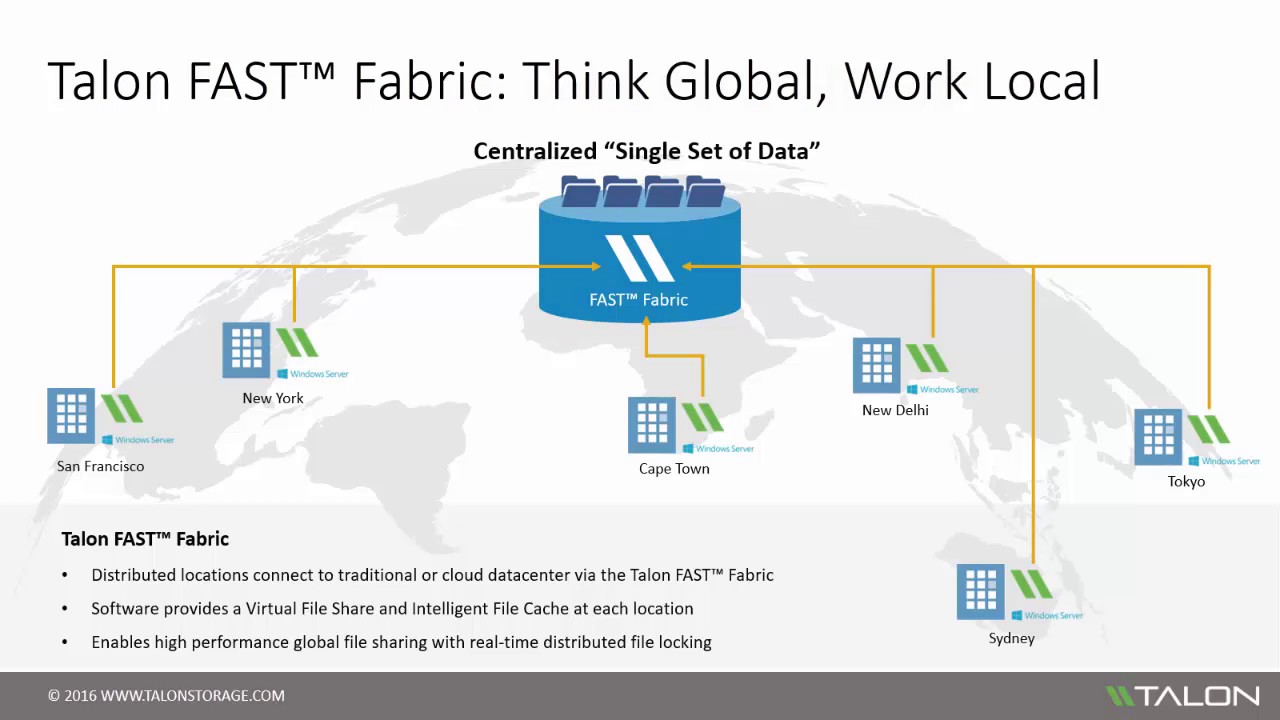 ---
Streamline your Distributed Infrastructure
FAST™ File Acceleration and Storage-Caching Technology is the missing link that makes it possible to overcome storage challenges at the branch. You can store unstructured data in a central location, empowering team members all over the world to collaborate on one authoritative file copy. You no longer need to maintain costly infrastructure at every branch location and you can simplify your IT needs across your entire enterprise. FAST™ allows you to consolidate IT infrastructure and simplify IT infrastructure at your branch locations.
Centralize your data into the cloud and streamline IT infrastructure at remote branch locations
Extend your centralized data set to remote locations via a global data fabric, simplifying branch data management
Eliminate on-site data management through active file caching, allowing you to maintain a centralized data set
Connect distributed branch locations to a transparent global namespace for easy file access
Where to go next?
Create a "Single Set of Data" in the cloud using your existing IT infrastructure.
Simplify your migration, governance, cloud, and security strategies by simplifying your infrastructure and consolidating into the cloud.
Eliminate your local branch backups by utilizing local file caching for active project data sets while maintaining a central copy in the cloud.
Eliminate Distributed Backup—learn more »
---
Consolidate Storage
Organize Data
Reduce Cost & Complexity